Kioti NX6020 Tackles It All
8 Apr 2019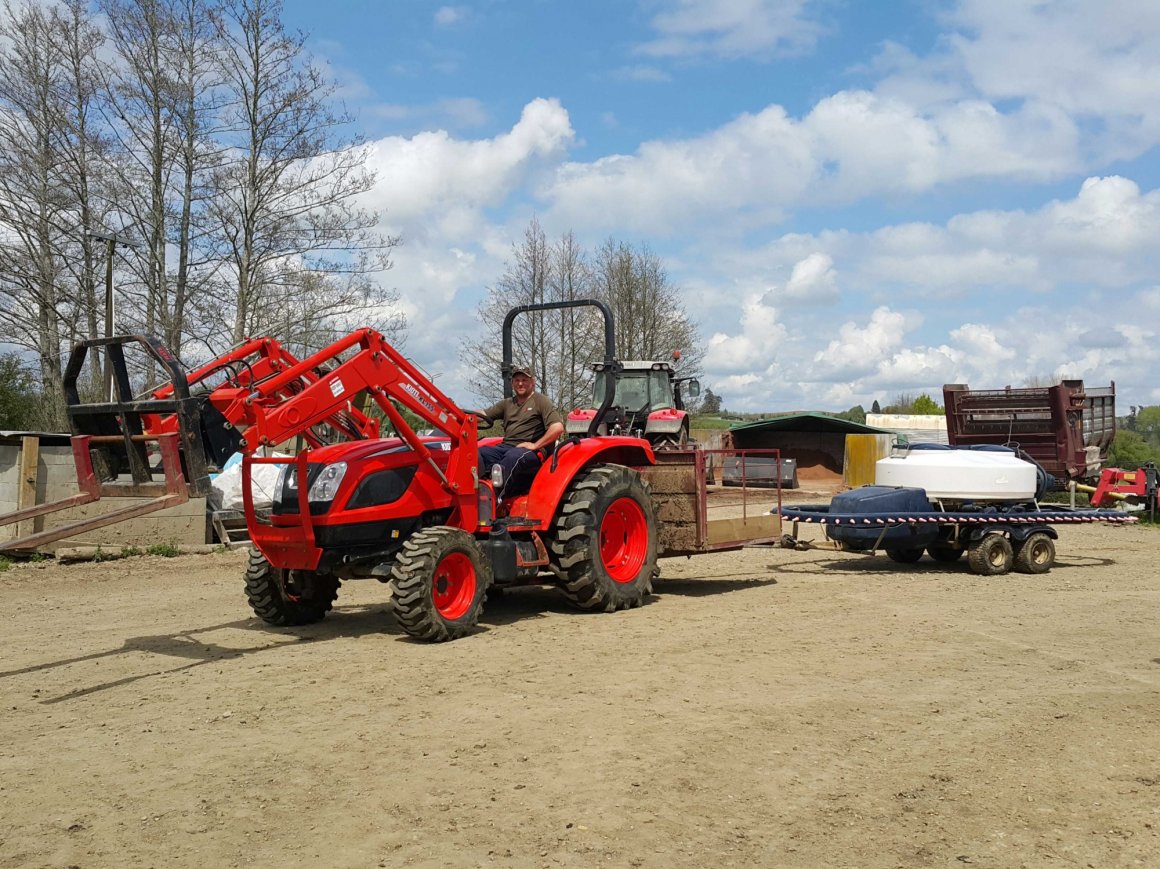 Jason and Rowan Turner are fourth generation farmers who milk 380 Friesian Cross cows to the south-east of Te Awamutu in the Waikato. Running a system that sees in-shed feeding combined with a feed pad, they saw production hit 505kgs MS/cow in the 2017-18 season, while the current season looks like hitting their target of 550kgs per cow.

Around six months ago, a new worker arrived on the property in the form of a Kioti NX6020 ROPS tractor with front-end loader, quickly becoming an integral part of the Turner team. While larger tractors take care of heavy-duty tasks, the utility Kioti, offering 60hp from its 4-cylinder engine and mated to a 3-stage hydrostatic transmission, has quickly become the 'go-to' tractor for a host of smaller tasks on Turners dairy farm. Much of the time is spent carrying a transport tray on the rear, which proved invaluable during the calving season, often enduring ground conditions that made travel with a quad near impossible. Used to retrieve calves from the paddock, at busy times, the Turners even towed a small trailer behind the transport tray to bring multiple calves back to the yard in one trip.

Jason sums up the purchase of the tractor commenting, "We chose the Kioti on the recommendation of Murray Barclay at Power Farming Te Awamutu, who we have dealt with for many years and respect his advice. The tractor is simple to use with everybody on the farm able to drive it, especially with the pedal operated hydro system. It's manoeuvrable, has 4WD and diff lock for the sticky stuff and can turn its hand to just about any job."

Now with around 200 hours on the clock, the tractor is kept busy towing a 1000 litre, 80-teat calfeteria out to the youngstock, while also keeping things tidy around the feed-pad with a loader- mounted yard scraper. The factory loader up front also finds plenty of work handling calf feed, hay bales and occasionally unloading delivery vehicles.

Jason sums up the NX6020 noting, "This tractor has been a real eye-opener for us, as like many people, we probably used bigger tractors for far too many small jobs. All we need now is some grass growth and a period of dry weather as we plan to use the little Kioti on a conventional baler to knock out some hay for the young stock".
Back