Deutz a firm favourite with the team
23 Dec 2020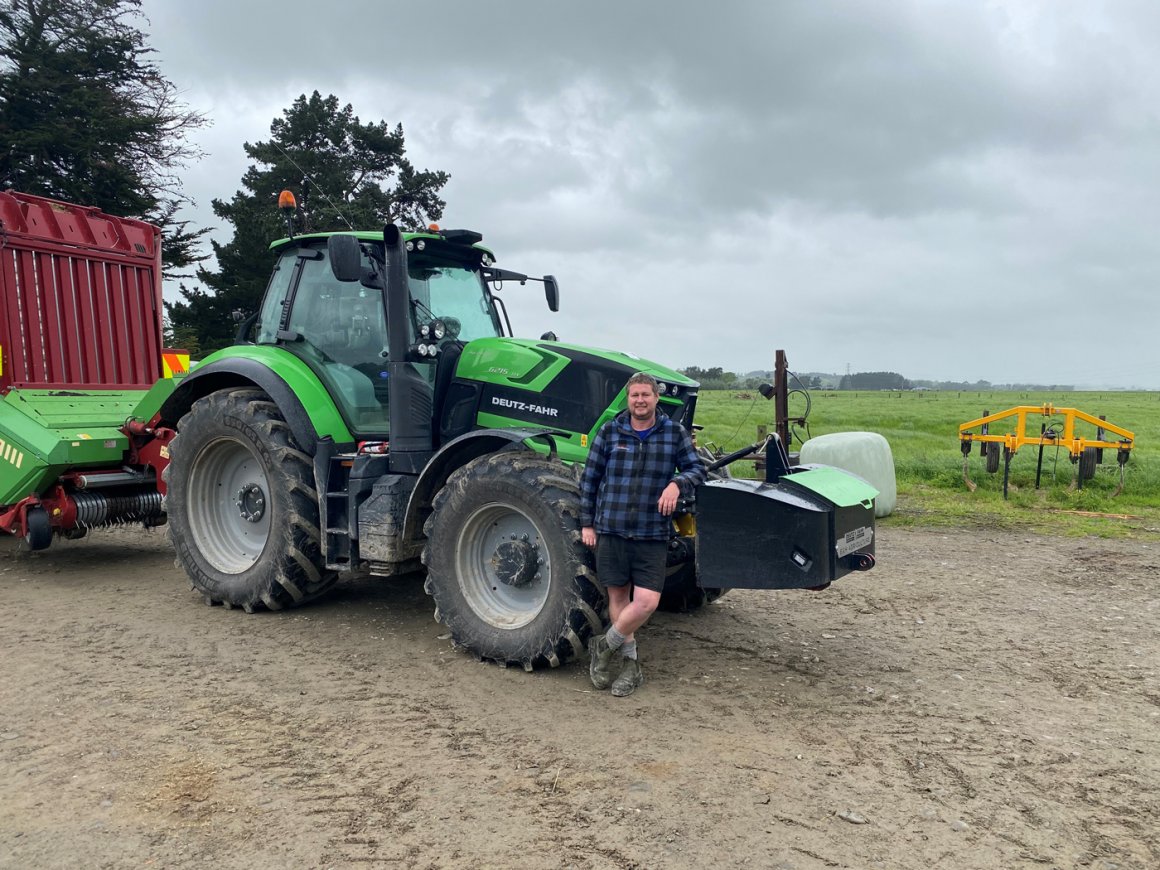 Jamie Hill operates BH Agriculture, a contracting business based at Feilding in Manawatu. Specialising in loader wagon silage, round and square baling, cultivation and effluent spreading, the company has an 11-year history and services a customer base up to 50kms from its base.

Purchasing their first Deutz-Fahr tractor back in 2014, the fleet has gradually expanded and now includes five of the German powerhouses from 100 to 250hp, alongside a fleet of implements with familiar names such as Kverneland, McHale, Maschio and Gaspardo, all supplied by local dealer Power Farming Manawatu.

Jamie comments, "We've had the 6215 TTV's on the fleet for about one and a half seasons and it really stands out as a very comfortable tractor, combining front axle, cab suspension and an air suspension seat. Whether it's in the paddock or at 50kph on the road it's a very smooth ride."

Jamie also notes that operators also like the ease of operation delivered by the i-Monitor display and the well laid out and logical controls. This is also the case with the TTV transmission that offers three driving modes to suit the job at hand, stepless speeds from 0 to 50kph and four pre-selectable cruise speeds, called up at the touch of a button.

"These Deutz tractors have plenty of power and excellent fuel economy - much better than previous brands we have operated - but they also seem to put the power to the ground well. We don't run any ballast on the tractors, other than a decent front weight block to balance the rear - but they really do pull well", says Jamie.

The story seems to repeat itself with the smaller, but no less impressive DF 6165 RC tractor that has been on the fleet for the past two seasons. This mid-range tractor, fitted with a fuel-efficient Deutz engine that mates with a semi-powershift transmission, quickly became the "go-to" tractor of the fleet. Jamie says, "The 6165 is nimble, manoeuvrable and has a brilliant set of LED lights that turn night into day. It really lends itself to towing, mowing and fertiliser spreading and is a firm favourite with the team."

Completing the package, Power Farming Manawatu is close by, offering 24/7 Sales, Parts and Service support, with a team of knowledgeable, factory trained staff, with a down to earth attitude that gets issues sorted quickly and with a minimum amount of fuss-"that's priceless for us, says Jamie, and a key reason we choose Deutz-Fahr."

Written by Mark Daniel.
Back